CNC Aluminum Machining, How to Avoid Deformation
CNC aluminum prototyping offers the perfect material for complex design verification and pre-production testing before mass manufacturing begins. Aluminum is an ideal material to work with during the machining process, allowing designers to find and solve problems quickly and get their products on the market faster. CNC aluminum prototyping is a great way to open up new applications across multiple industries.
For machined aluminum parts with complex geometries and a high level of accuracy, 5-axis CNC machining may be the perfect solution. Our advanced 5-axis CNC machines allow us to cut in five different angles at once, enabling us to accurately mill aluminum components with any shape or size. The result is parts that are more precise and have more intricate details than those produced by traditional CNC machining methods.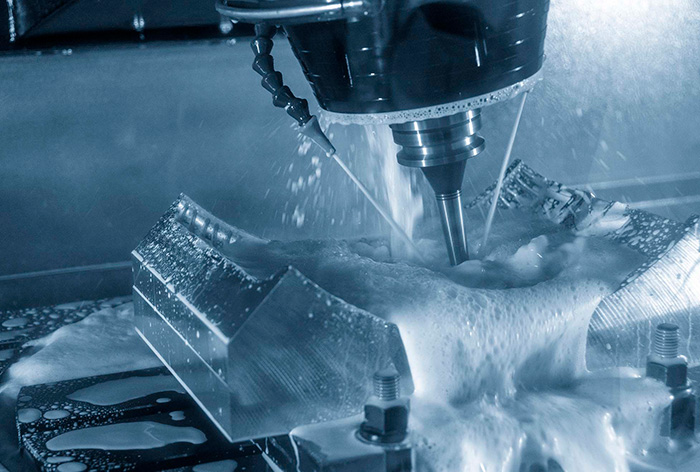 5 axis CNC Machining Aluminum
     There are many advantages of 5 axis CNC Machining Aluminum, they are:
5 axis CNC Machining offers various benefits, such as efficiency. With just one setup alone, it can help reduce setup time, reduce lead time, and generate higher productivity for businesses.
5-axis CNC machining offers improved geometry and accuracy with versatile configurations, allowing for more complex geometries and shapes in machined aluminum parts. The 5th axis also provides improved accessibility to hard-to-reach features of components, greatly improving production efficiency and component quality.
CNC machining with 5 axes provides improved accuracy and tolerance compared to other machining techniques as workpieces can be finished in a single run, resulting in higher quality and lower margin of error.
5- axis CNC machining has the added benefit of being able to increase spindle speeds and feed rates. This reduction of the load on the cutting tool is possible due to using more rigid and shorter tools that can better handle the pressure of faster movements.
How to Avoid Deformation When Machining with Aluminum?
Use the right fixture
CNC aluminum machining for thin-walled parts with poor rigidity requires precision to produce satisfactory results. To strengthen the material and guarantee accuracy, one should use a vacuum table for large sheet parts or a pneumatic or mechanical vise for smaller odd shapes. Additionally, a medium can be filled inside the workpiece, and suction cups used to evenly distribute the clamping force around the thin plate.
Reduce the intrinsic stresses in the material
CNC aluminum machining is a process for creating precision parts from solid pieces of aluminum, as well as minimizing the inherent stresses within the material. The process involves using specialized tools to cut and shape the aluminum into custom shapes that are perfect for any application. Additionally, CNC machining improves accuracy while providing a high degree of accuracy and repeatability, resulting in intricate products with tight tolerances.
Chose the proper cutting tool
When selecting the cutting tool for CNC Aluminum Machining operations it is important to keep the tool short and select the appropriate geometry as this will allow for better chip evacuation and help reduce cutting forces. The material of the tool is also an important factor, as having the wrong one may cause deflection of your finished parts.
Suitable machining process
The machining of aluminum using a CNC machine typically involves four stages: rough machining, semi-finishing, clear corner machining, and finishing. These steps ensure that the aluminum is accurately and precisely cut according to the desired specifications. For higher accuracy requirements, the number of semi-finishing operations should be increased and a consistent machining allowance should be maintained.
Calculating the optimal feed and speed for CNC aluminum machining
The CNC Aluminum Machining process consists of several steps which involve selecting the appropriate feed, spindle speeds, and depth of cut, as well as machining all cavities in the workpiece in multiple layers. Additionally, since drilling comes before milling for parts with cavities, this must be conducted first to ensure a successful product. Symmetry should also be applied when working on the front and rear surfaces of the workpiece.
Different Grades of Aluminum
CNC aluminum machining is a great choice for any engineer. The material is incredibly versatile and has a wide range of advantageous properties, which make it ideal for many projects. With the help of computer numerical control (CNC) machining, engineers can gradually narrow down their selection and target the exact material that will meet their needs. Below shows different grades of aluminum material:
Aluminum 6061
Aluminum 6061 (CNC) is a very popular aluminum alloy used in CNC machining due to its excellent mechanical properties. This particular grade of aluminum is known for its strength, workability, and corrosion resistance, making it one of the best options for a wide variety of projects.
Aluminum 6082
Aluminum 6082 is an alloy of aluminum with superior strength, corrosion resistance and durability compared to the 6000 series. The alloy can be used as a replacement for 6061 in many applications, although it is difficult to fashion thin walls from it. CNC machining is one of the best ways to process aluminum 6082 due to its high strength.
Aluminum 6063
Aluminum 6063 is a type of aluminum alloy that is commonly used in many architectural and extrusion applications due to its medium strength. It is often found in exterior and interior finishes, as well as structural components. However, this alloy may not be suitable for applications that demand higher strength.
Aluminum 2024
Aluminum 2024 is an alloy with excellent fatigue resistance, strength and toughness. It is most commonly used in aerospace and military applications, and found in the T3, T4, and T8 tempers and in the annealed state. However, it has a notable downside: low corrosion resistance and high sensitivity to thermal shock.
Aluminum 5052
Aluminum 5052 is an alloy of aluminum which contains high magnesium content and has excellent properties like weldability, corrosion resistance and hardness. It is suitable for various 'H' temper structures through cold working. However, aluminum 5052 can't undergo heat treatment and as such it is primarily suitable for marine applications due to its ability to resist salt water and salt spray.
Aluminum 7075
Aluminum 7075 is a zinc-based alloy that offers exceptional strength and machinability. It can even surpass the performance of some steels. This type of aluminum is well-suited for applications requiring its high-stress or high-performance abilities. However, one should be aware that it is less corrosion resistant, ductile and costlier than other grades of aluminum.